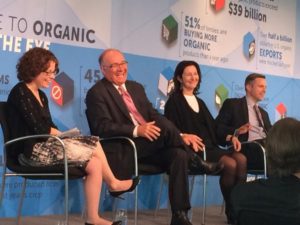 Marni has moderated and spoken on many panels, on topics including organic law and policy, the political landscape, legislative priorities and administrative implementation, pollinator decline, organic industry trends, climate change, GMO labeling, and women in the workplace.  Most recently, Marni spoke at the Slow Food Summit, Natural Products Expo, and the Grocery Manufacturers Association Legal Conference.  Interested in having Marni speak at your conference?  Contact us here.
Read Marni's opinion on GMO labeling legislation, as reported in Time Magazine, here.
Politico quotes Marni on hot organic issues, including the proposed rule on organic livestock and poultry production, here.